In and Out of Sight
Paperback out now with Oxford University Press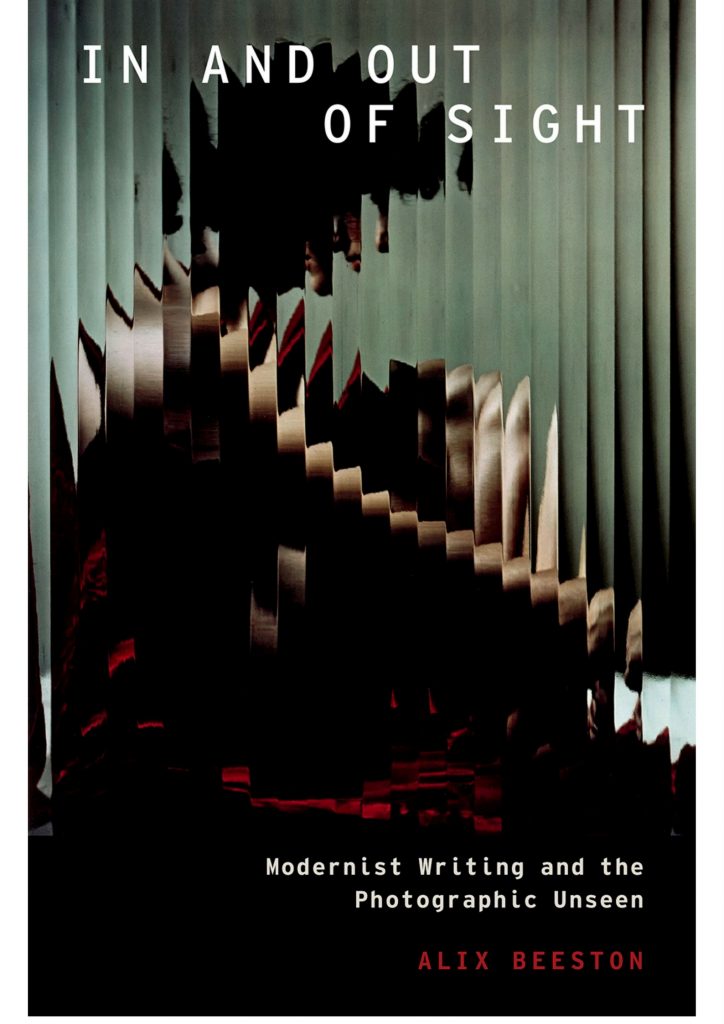 In a post-digital media landscape tracked endlessly by streams and feeds of images, it is clearer than ever that photography is an art poised between arresting singularity and ambiguous plurality. Drawing on work in visual culture studies that emphasizes the interplay between still and moving images, In and Out of Sight: Modernist Writing and the Photographic Unseen provides a provocative new account of the relationship between photography and modernist literature — a literature that has long been considered to trace, in its formal experimentation, the influence of modern visual technologies.
Making pioneering claims about the importance of photography to the writing of Gertrude Stein, Jean Toomer, John Dos Passos, and F. Scott Fitzgerald, Alix Beeston traverses the history of photography in the late nineteenth and early twentieth centuries. From the composite experiments of Francis Galton to the epic portrait project of August Sander; from the surrealist self-fashioning of Claude Cahun to the reappropriation of lynching photographs by black activist groups; from the collectable postcards of Broadway stars to the glamour shots of Hollywood celebrities: these and other serialized photographic projects provide essential contexts for understanding the fragmentary, composite forms of literary modernism.
In a series of richly detailed literary analyses, Beeston argues that the gaps and intervals of the composite literary text model the visual syntax of photography — as well as its silences, absences, and equivocations. In them, the social and political order of modernity is negotiated and reshaped. Moving in and out of these textual openings, In and Out of Sight pursues the fleeting, visible and invisible figure of the woman-in-series, who recasts absence and silence as forms of presence and witness. This shadowy figure emerges as central to the conceptual space of modernist literature — a terrain not only gendered but radically constructed around the instability of female bodies and their desires.
"Alix Beeston's In and Out of Sight is one of several exciting and innovative accounts of the relation between literature and photography to appear in recent years, studies that have charted a new course for the field away from a focus on questions of realism and indexicality. … [T]he readings that emerge are powerful and persuasive. … [It] is a welcome contribution to modernist and visual studies, persuasive evidence that these intertwined fields remain as vibrant as ever." — Stuart Burrows, American Literary History
"[T]he strength and ambition of this densely layered book lie in its capacious reach through literary and photographic forms and genres. … Alix Beeston's bold and challenging new book…forges an exciting direction for future work in modernist studies, photography and literature, still-moving studies, and feminist studies." — Louise Hornby, The Modern Language Review
"Alix Beeston's probing, artful, and original In and Out of Sight: Modernist Writing and the Photographic Unseen extends and redirects [the] dialogue between modernist literature and visual media. … In and Out of Sight is a genuinely interdisciplinary project; its author is as conversant in moving-image studies as she is in modernist literary studies. Beeston sustains her range of references through what she identifies as a sort of critical montage, a methodology that poses important questions for the future of modernist studies. … Beeston encodes her 'strong' combination of theoretical, formalist, and archival rigor within an open—composite, fractured, sutured—reading practice. It is this openness…that is sure to make it durable for generations of future scholars." — Stephen Pasqualina, Modernism/modernity
In and Out of Sight "is powered by a truly interdisciplinary gathering of proofs and examples taken from photography, literature, history, and theory from the modernist moment and our own. [This book] may be the most thrilling offering of 2018." — Shawna Ross, The Year's Work in English Studies
"In and Out of Sight integrates scholarly and critical theory and practice to provide innovative formulations as well as fresh interpretations of major modernist texts. Beeston's impressive first book makes significant contributions not just to the reading of literary and visual modernism but to the understanding of gender, race, and class in twentieth-century American culture. … Beeston's critical strategy proves daring and effective." — Joseph Millichap, MFS: Modern Fiction Studies
"In and Out of Sight offers a new way of looking at photographs and the novels that resemble them. Concentrating on the spaces between the pictures, Alix Beeston alerts us to the uncanny way that photographs can evoke the unseen, the unknown, and the unacknowledged. Multiplying these unseen spaces, photographs open up the visual order of modernity and make a place for a different kind of politics. Beeston's theory of serial representation extends our understanding of the relationship between photographs and fiction and results in a set of compelling re-readings of major modern novels." — Michael North, University of California, Los Angeles
"In and Out of Sight brilliantly expands our sense of what photography meant for modernist literature and the visual culture that informed it. By looking beyond the photographic image, Alix Beeston lets us see how writers captured the aesthetic power of the strange variety of forms — serial compositions, photomontages, and more — made possible by new technologies of vision. Drawing on Beeston's impressive fluency in media studies, feminist theory, and literary history, this book proves that there is still much that we can learn about how modernism actually pictured bodies and the systems of representation that gave them meaning." — Mark Goble, University of California, Berkeley